Learn how call centers can get more borrowers in your pipeline in this free webinar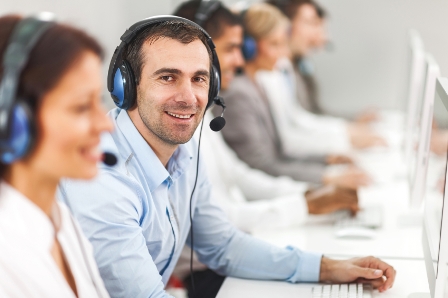 Everyone has heard about call centers. Many mortgage business shy away from working with call centers, however, even though using one can add a healthy boost to the bottom line and save loan officers a ton of time.
Raymond Bartreau, Founder and SVP of Mortgage Partnerships at Best Rate Referrals, is going to address all of the common misconceptions and more in an upcoming webinar, "Mortgage Call Center: How to Win in Today's Market" on Tuesday, August 7th. During the webinar, he will explain the ins and outs of adopting a call center model, including the hurdles of trying to build a call center, pay structures, hiring, training, and which dialer to use, as well as the pros and cons of doing it yourself versus outsourcing on an hourly rate, going onshore or offshore, or buying live transfers.
"Call centers are efficient, consistently cheaper, it saves a lot of time, and at the end of the day, it achieves your quality loan officers more quality contacts daily than any other form of marketing," Bartreau said.
If you've been thinking about call centers, you've probably been wondering whether or not it's appropriate for your business model. Whether you're an independent originator or a branch manager running a team, Bartreau said there are really two main indicators that will tell you if you need to start working with a call center. The first indicator is if you're not hitting the volume that you want with your current model, as more people shift to doing more purchase loans. One way to turn up that volume is by using a call center. "The other big red flag is when loan officers are chasing leads more than they're converting them.
"If your loan officers are spending six or seven hours a day calling leads and only an hour a day pitching a homeowner a program, that's not a good solution for your business. So injecting a call center do all that calling legwork is a much more strategic and efficient model," Bartreau said. "If you're not hitting the volume you want, and your loan officers are prospecting more than they're closing, it's probably a good time to get a call center involved on some level, whether that's internally or outsourcing."
Many originators and branch managers have misconceptions about call centers, the biggest two of which include the idea that most call center opportunities are offshore, and the other is that running a call center model is very expensive and difficult. In reality, there are plenty of onshore opportunities to tap into, and once you have the model set up and running, Bartreau said it's probably the least expensive cost per fund. "I always tell folks, doing your own internal call center and buying aged opt-in leads is going to achieve a lowest cost per fund in the space, there's nothing better."
Another topic that Bartreau will address in the webinar is managing the call center, which is something that people fear. It is a lot of work, he said, but "it's an investment in your business. Sometimes you have to invest time into your business, not just money." And again, after the initial setup, there are ways to effectively manage them without taking much time on a day-to-day basis.
If you're still having doubts about whether or not you should look into the call center model, consider what it produces: an inbound phone call from an interested party that wants to talk about your service. It's a very efficient way of marketing, and allows originators to make the best use of their time, closing.
"Inbound calls can come from all angles, but the call center model seems to be a little bit more advanced because it vets the consumer a little bit. You can send mail out all day and get inbound phone calls but it's not consistent or cheaper," Bartreau said. "The reason a call center's effective is because it's not only efficient, and there's not another form of marketing out there that is as consistent."
Learn how to drive ROI by identifying and taking a strategic approach to a mortgage call center in this free webinar on Tuesday August 7th at 4:00 EST, and discover how to get more borrowers in your pipeline!
Related stories:
Q&A with Raymond Bartreau at Best Rate Referrals
Can confident consumers boost an uncertain market?