Global Financial Services has won the Deloitte Fast 50 for the fastest growing mature business... Real estate figure moves on after nearly 50 years...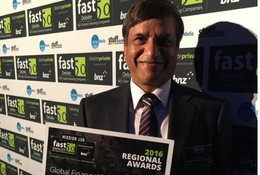 GFS win Deloitte Fast 50 award
Global Financial Services
has won the Deloitte Fast 50 for the fastest growing mature business (in operation for 15 years plus) in the Auckland and Upper North Island region.
The Deloitte Fast 50 awards celebrate New Zealand's fastest growing companies and are in its 16th year in New Zealand.
Real estate figure moves on after nearly 50 years
David Clifton is moving on to the next phase in his life after almost 50 years in real estate.
Clifton, which Harcourts New Zealand have proudly called one of their own for 17 years is highly regarded in real estate circles and widely credited as being one of the individuals to have championed auctions within New Zealand.
He started in the indsutry at 17 years old in Melbourne and says he observed his first auction at 18 years of age, and from that time on he was hooked.
In 2004 he went into partnership with Graham Viall and together they jointly purchased Eastzone Realty, comprising of Harcourts Howick, Pakuranga and later the Meadowlands office.
He said it was an emotional decision to sell his business to Preet Grewal, who owns Harcourts Preet & Co and the Harcourts offices in Botany, Manukau, Ellerslie and Otahuhu but the time was right for change.
"It was incredibly emotional telling the team. But I leave them in excellent hands and I'll be around until Christmas during the transition period."
Harcourts CEO Chris Kennedy says David Clifton is a legend within real estate, and he is one of the individuals that influenced his own career.
"David mentored me when I was starting out in auctioneering. I have the greatest respect and admiration for him. It's with sadness that we say goodbye to him as one of our business owners, but he will always be a part of the Harcourts family.
RESIMAC announcement following investor lending growth
RESIMAC Home Loans has seen an increase in their investment lending volumes to such an extent that they have announced a change to balance their new business between investors and owner-occupiers.
"To ensure we can continue to support you with investment lending to 80% LVR, as from Monday 26th September we will also require the owner occupied property to come to RESIMAC," an RESIMAC update stated, effective 26th September to ensure a 'sustainable balanced portfolio'.