Eleven adviser forums will be held around the country over the coming fortnight as part of Financial Advice New Zealand's 40 days of consultation with the industry.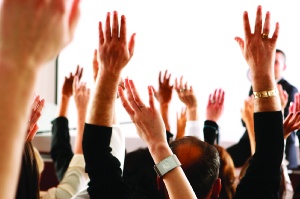 Financial Advice New Zealand's face-to-face adviser forums are set to commence on Tuesday as part of the consultation phase in developing the new body.
Before the Christmas break, the Financial Advice New Zealand Working Group's
Bruce Cortesi
and
Michael Dowling
had said digital consultation with advisers via email and its dedicated website
had been a great success
, but Dowling said it's time for discussions to take place in the same room.
"Now we want advisers to come in and start to talk through issues and start to engage with us and help us with that building of the new body so that we can flesh everything out and dive into detail," Dowling told
NZ Adviser
.
The forums will cover a number of themes but they stress the floor has purposely been left open to discussion to ensure every avenue can be considered.
"We want to keep the sheet of paper blank at this stage until we've got all the feedback in and that way we're not influenced on an outcome until we've considered everything," said Dowling. "We've been disciplined not to go through and select part of (the feedback) or start organising it because it can influence how you think."
Cortesi said one of the themes they will be seeking feedback on is around the role of a financial adviser association. "What's their viewpoint on that? That could be anything from advocacy, professional development standards, consumer awareness – any or all of those things or none of them."
Other themes include what specific services/support the body should provide; how it can help to increase consumer trust and confidence in advice and advisers; and ensuring the needs are met for different types of advisers.
They said registrations from advisers continue to flow in, with 500 so far and 1100+ feedback submissions online.
The 90 minute forums will take place in 11 locations nationwide between 31 January and 9 February 2017 and are open to all advisers in New Zealand. The locations are Nelson; Wellington; Dunedin; Christchurch; Invercargill; Tauranga; Hamilton; Auckland; North Shore; Napier; and Palmerston North.
The consultation stage is set to conclude on 7 March 2017, but could extend another five days if the Working Group deems it appropriate. "Then it'll be a period of actually understanding that feedback, quantifying it into a format that can be used to provide some level of detail," Cortesi told
NZ Adviser
.
The entire 100 days of development will wrap up on 5th May.