Not convinced about asset finance? ANZ's Trent Cummings explains to MPA why the numbers do add up and why ASIC's changes are finally giving brokers the edge over car dealers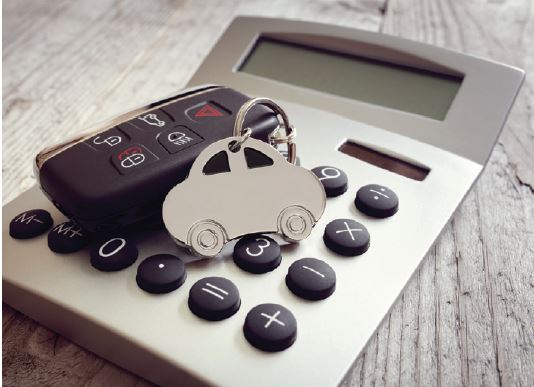 Not convinced about asset finance? ANZ's Trent Cummings explains to MPA why the numbers do add up and why ASIC's changes are finally giving brokers the edge over car dealers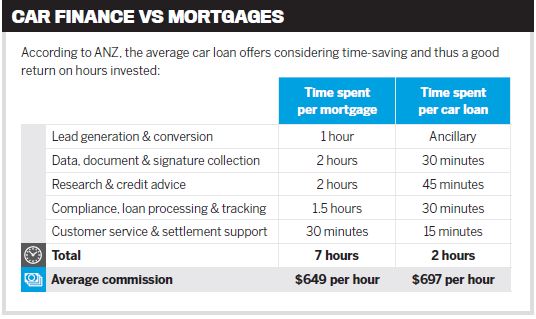 As head of anz's third party asset finance arm, Trent Cummings has spent years persuading brokers to take an interest in car finance, and he's heard all the excuses.
"A car's an average $40,000 and everyone says, 'Trent, it's not worth it to me'," which is a typical reply, Cummings explains. The problem is that the numbers just don't add up. Brokers tend to look at the size of a total home loan and a typical car loan and determine – correctly – that commission on the typical home loan is considerably larger.
Yet the actual size of the market, Cummings says, isn't determined by one home loan – it's the number of deals available. A average of 86,250 home loans are written per month, compared to 100,476 car purchases, counting only new cars. Furthermore, he explains, "For every household there is – and I'm trying to be conservative here – 1.65 cars, so for every two home loans you do there's three cars available to you."
That's why Cummings believes asset finance has a clear advantage. "From the size of the pie to the number of opportunities – that's why you should step into asset finance," he says.
Work and reward
As competition in broking grows, time per deal has been increasingly discussed as a marker of success. At MPA's High-Performance Summit in Melbourne, Jason Back, managing director of multiaward- winning brokerage The Australian Lending & Investment Centre, did an entire presentation on the topic, emphasising return on investment.
When it comes to asset finance, that return is clear, says Cummings. "The actual time to deliver a car is considerably less than to deliver a home loan, from a broker's perspective, and that's particularly the case when the car is ancillary to the mortgage … you'll have instances where you've already had all the necessary conversations with your customer and the client to be able to do a home loan and also a consumer car loan very quickly thereafter."
When looking at a client's living expenses for a home loan, for instance, you'll be able to see how much they're paying for their car, the term of the loan and when it is due for renewal – an obvious trigger to talk about asset finance with your client.
Don't forget that customers also have limited time: many will be looking for their broker, who already has their financial information, to do the loan for them with as little contact as possible. Conversely, given that households more frequently turn over vehicles than property, asset finance gives you additional opportunities for contact with clients after the deal's done.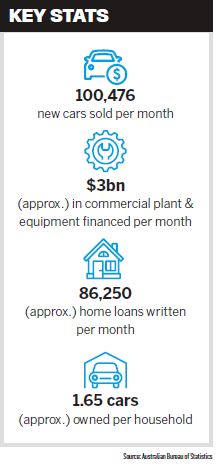 Self-employed customers can be particularly important to brokers here, as they may need finance for several commercial vehicles, which could be worth a lot more than the average car. For instance, a broker could earn $3,000 in commission by arranging finance for a $130,000 truck. Given that 25% of ANZ's new home loans are for self-employed customers, says Cummings, "whether you like it or not, you're already playing in that field".
Finally, as asset finance pays upfront commission, rather than waiting for trail to come through you can use the proceeds for instant expansion and improvement of your business.
Sunset of the dealer
Car dealers have traditionally dominated car finance, talking to customers long before they meet a broker, but in 2018 this dominance could come to an end. ASIC is prohibiting flex commissions for dealers, effective from September 2018, preventing dealers from deliberately increasing rates or, in some cases, reducing rates by adding the cost to that of the car. The latter practice could disadvantage brokers, but Cummings expects that the situation will reverse. "Point-of-sale exceptions – the car dealers – they won't be able to actually discount, whereas the broker, the ACL holder, will be able to discount."
Dealers won't disappear. Instead, many will look to acquire their own credit licence, presenting a threat to brokers. "Car dealers are going to lose income with the prohibition of flex commissions because they can't make the margin," Cummings says, "but they've got the customer there, they've got the asset finance there, the ability to go and actually do their home loan, and these guys are very good at finance."
At present, asset finance remains a diversification opportunity for brokers. Soon, however, it'll become a necessity, with asset finance providers from broking and beyond looking to poach your home loan clients, Cummings warns. Therefore, taking a long-term view, "asset finance is a fundamental part of your offering as a broker and a builder of relationships with your clients," he says.