Effective data management has never been more important for brokers, here's how one aggregator is responding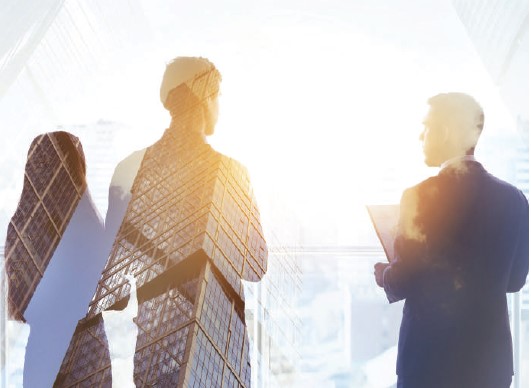 Effective data management has never been more important for brokers, and aggregators will be the ones called upon to offer support
When the Combined Industry Forum (CIF) released its report in response to recommendations of both the ASIC and Sedgwick reviews, it became apparent that improvements to governance in the mortgage sector would be at the centre of its proposed reform package.
In fact, a key commitment of the plan is the implementation of an enhanced governance framework under which the industry will self-assess, self-correct and continuously improve.
"The proposed changes are expected to improve conduct and culture across the industry, and hence improve customer outcomes," the CIF states in its report, setting an ambitious completion date of 2020.
Of course, while brokers generally support the CIF's proposals, many still have questions about the practical implications and what these mean for their businesses.
Choice Aggregation Services CEO Stephen Moore has already committed to implementing the recommendations and says his organisation will assist and educate brokers where necessary.
"As always, we will work with brokers to ensure that they are well prepared for these changes, and that they are implemented smoothly," he tells MPA.
One of the key changes, he says, will come in the form of a robust data governance policy – something the industry is in dire need of.
"Just as our knowledge of tech-focused concepts such as big data and data governance have evolved over time, so too has the broking industry," says Moore. "The collection of customer data has never been more important, and, even more so, the protection and appropriate use of that data."
"The collection of customer data has never been more important, and, even more so, the protection and appropriate use of that data" - Stephen Moore, Choice
Collecting comprehensive and high-quality customer data will help brokers deliver outstanding customer service while boosting their businesses, but it'll also build trust among both clients and lenders, he says.
"We want to increase confidence in our industry, and we know that transparency is key to trust," Moore says. "Making available more data by aggregators and brokers will certainly assist in this, and we will be providing all the data brokers will need to meet any new requirements."
Importantly, Moore says the new proposals are also designed to prepare brokers for key developments on the horizon – such as comprehensive credit reporting (CCR) and open banking.
"Ultimately, the combination of CCR and open banking will mean that, with their clients' permission, brokers will have the opportunity to overlay the data an institution has about a customer with the personal insights they have on that customer," he says.
"This holistic view will enable and empower brokers to more effi­ciently help clients and deliver better customer outcomes – but it all needs to be managed and governed in the right way."
Understandably, some brokers have expressed concerns about the extra workload that will be coming their way – however, Moore says there is no reason to worry.
"Brokers should continue to focus on what they do best – providing valuable advice and great customer experiences," he says.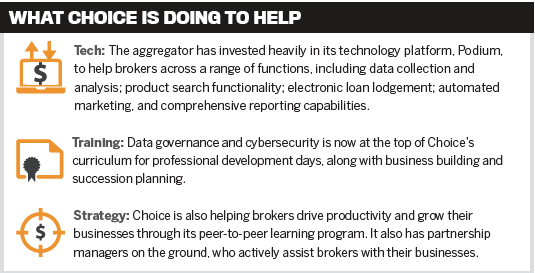 "We do not envisage fundamental changes for brokers in terms of how they interact with clients, but we do believe that the more they know and understand about a customer's financial situation, so they have a holistic view, can only lead to better outcomes. We want to continue to support and encourage and facilitate that."
In particular, Moore says Choice encourages brokers to take a "know and show" approach when it comes to verifying customer data, particularly around income and expenses.
"Ask the extra questions, make file notes for everything, and have clients review and sign everything," he says. "Having good documentation is key to brokers being able to ensure they have covered everything and have a full picture of their customer's position."
Of course, responsibility will not be shouldered by brokers alone, and Moore says aggregators must step up to support brokers.
"Going forward, data management will be a core role of the aggregator for broker businesses," he says. "Brokers should expect their aggregator to be able to provide reporting and insights required, like reporting on lenders available and used by the broker."
"Brokers play a fundamental role in driving competition in the Australian lending landscape" - Stephen Moore, Choice
Moore also says aggregators will be called upon to offer tools and the necessary training so brokers know and understand the importance of quality customer data.
"As an industry, we need to continue to lift the bar when it comes to ensuring high quality in everything we do – our business processes, documentation and client interactions, data collection, and, most importantly, customer service," he says.
Despite the sweeping changes and the rise of data, Moore says the face-to-face broker role remains invaluable within Australia's mortgage industry. "Brokers play a fundamental role in driving competition in the Australian lending landscape," he says.
"Brokers can build stronger customer relationships and deliver better outcomes and advice for clients with the knowledge they already have, combined with greater collection and analysis of data.