The challenge of creating a true end-to-end solution for Australia's largely inefficient mortgage processing industry is one being taken up by a small law firm on the outskirts of Melbourne. MPA's Larry Schlesinger travelled to Frankston to find out more.

Attend a mortgage conference in Australian dealing with straight through processing (STP) and you are likely to hear a lot of industry talk about ways of automating the steps from lodgment to unconditional approval, with little focus on what follows next: the preparation of loan documents and ultimate settlement of the loan.
And while creating a fully automated, unconditional loan approval system appears to be high on the agenda of most major lenders, streamlining and automating the preparation of legally-binding loan documents is – it could be argued – a far greater challenge, not least because it requires the co-operation of numerous parties, including lenders, brokers, valuers, the outgoing mortgagee, document preparers and legal representatives.
Finding a solution to the second part of the STP equation – document preparation – has been a 10-year project for Simon Purcell, the managing director of Frankston-based law firm Purcell Partners. Having spent much of his legal career working with private lenders and having witnessed the delays and bottlenecks in the closing of a loan, he has set up specialist mortgage processor, LoanCloser Operations (www.loancloaser.com.au), which he believes could be the solution to much of the Australia's inefficiency problems.
An engine that does it all
LoanCloser is essentially a web-based 'settlement engine' for mortgage processing, which upon instruction can handle document preparation, file management, settlement, registration, trust reconciliation and management reporting for all states and territories – everything after loan approval.
Uniquely, the 'engine' sits on a lender's web server and enables communication between the various parties in the document preparation process (as determined by the lender), much like an online chatroom.
Panel solicitors, in-house document preparation units, brokers and valuers log into the system using a simple login and password, and are then able to instantly update each other as to what tasks have been completed, request and attach necessary documents, and review electronic file notes. The system cleverly colour-codes comments made by each party in the process so anyone using the system can see in an instant which steps have already been taken.
All documents relating to a relevant loan file are saved electronically including pay slips, the loan application, the valuation, and executed documents, and according to Purcell, this replaces the need for paper file storage completely.
The end result is the automatic creation of mortgage documents after approval, without the need for re-keying of data. These documents can then be printed out by the broker, borrower or solicitor, whether they're located in Manly or Mandurah.
"If you think of very remote regions in WA, and then have to send mortgage documents from here (Frankston) – even if you send them via express post – it still takes four or five days to get there," LoanCloser, head of operations, Kylie Curwood explains: "However, if you have a lawyer in Port Headland (using LoanCloser), they can print out the documents directly – all they need is a laser printer."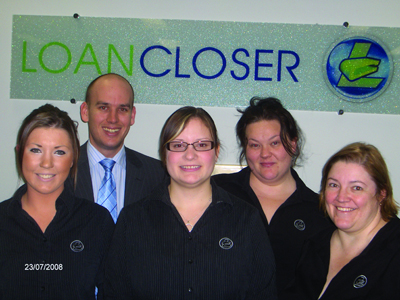 The LoanCloser team
---
As the system is entirely web-based, it also eliminates the need for phone calls and faxes, with parties corresponding over the net in real time using the electronic file notes pertaining to each file.
Purcell Partners, in its legal guise, has been one of the guinea pigs for LoanCloser, and Curwood says the drop in the level of noise in the office is most notable: "Our fax machine doesn't run anymore. Our phone calls have reduced by two-thirds. It's a bit eerie actually," she says.
Broker benefits
Brokers who attended the MFAA conference in 2006 may recall seeing a series of videos put out by LIXI a few years ago which highlighted problems faced in seeing loans through to settlement – in one example, a frustrated broker was unable to update a client about the progress of their loan due to key people being sick or unavailable, or due to simply not being able to track down the right person to answer the relevant question.
Curwood says the system they have developed specifically eliminates these problems, giving brokers the ability to know at any one time where a borrower's mortgage file sits: "A borrower can ring in, ask where the file is at and the broker can give them an answer straight away – without having the frustrations of waiting for an answer, or a return call back."
And because it uses service oriented architecture (SOA) built around Microsoft's .NET framework, it can communicate with any lender's legacy system. This means lenders need not change their approval systems to load the same data into LoanCloser.
Role play
But to describe how LoanCloser works in just a few sentences is certainly a challenge – on the day I caught up with Purcell, Curwood, product development manager Anthony Hughes, and the rest of the Frankston team, a row of seven computers had been set up to demonstrate how each party to the transaction would use the system.
Over the course of an hour-and-a-half, I played the role of lender, broker, document preparer, the borrower's representative, the vendor's representative, and the exiting lender to get a taste of what the system is capable of doing.
Once the loan has been approved, the bank's legacy system dumps the information into LoanCloser.
Then the lender sets the permissions to allow parties involved in the preparation of final documents access to the file. Acting as the 'lender', I send a note to the broker requesting copies of a pay slip.
A quick dash across the room, I login as the 'broker' would, and see the note from the lender – as a secondary back-up for all notes exchanged, an e-mail also arrives in my inbox.
As the system sits with the lender, things like times and dates come off the host server and are 'locked down', meaning no issues with daylight savings or a computer being slow.
As the broker, I am now able to reply to the lender, attach the necessary documents and inform him and other interested parties that this task has been completed. There is no limit to the number of documents that can be attached to one file – "You can attach as many documents as you want or need. Everything is scanned and then referred to in the file – everything is there at your fingertips," Curwood explains.
As it is a top-down system, the administrator determines who sees what and who can make changes – this means if a document is attached to a wrong file, it can be easily deleted by the party who has permission to do so.
Once all the necessary documents are attached, I resume my role as 'lender' and instruct the solicitor to 'prepare docs as soon as possible' and allow them to view notes from the broker.
"In real life, this can be as simple as a day's turnaround – the solicitor can see all the notes from broker to lender," Purcell explains. And because permissions are controlled by the lender, confidentiality can be ensured by restricting access to legal notes between the lender and solicitor.
One big melting pot
And so my role playing continues – valuers are added to the conversation – appearing in their own colour-coded message. Into the mix comes the borrower's representative who will know exactly when documents are ready for printing; and the representative of the person selling the property who can provide the necessary 'sale' documents and begin communicating with the outgoing mortgagee and exiting lender.
When all is in place, the exiting lender sends a note requesting funds for settlement.
"You can have thousands of people in the system at any one time dealing with data – you're all together in one melting pot," Purcell says.
"Every electronic note saves a phone call – you still talk to people, but you save calls for important things," he adds. For brokers, this allows them to focus on things like customer retention and courtesy calls.
Once a loan is settled, all files are archived and an electronic trail of the whole process preserved.
And if there are any issues, parties using the LoanCloser system can see who has done what, simply by viewing the notes: "If you have a record of it, there's no argument. This has taken a lot of the angst out of the process – people don't argue anymore," Purcell says.
Outside impressions
With LoanCloser still only used by a smaller percentage of the market, it is difficult to get outside views.
One person, though, who has some first-hand knowledge of LoanCloser is Andrew Duerden, from mortgage software and servicing company LoanWorks. He says "the idea is quite clever".
Duerden sees its value in allowing a lender to implement a single system that all panel valuers and solicitors can interact with.
"It makes it easier for lenders to integrate business processes into one system," he says.
However, his biggest query is not so much with the system itself, but how to convince other lenders – particularly the major ones – to ditch the systems they have developed with other legal firms and valuers, in favour of LoanCloser.
"Bear in mind that a small valuer on a panel of say Westpac would get 90% of their business from one source and would more than likely to use their software. You'd also have a hard time swaying other law firms," he says.
On the other hand, he says if it is a smaller non-bank lender, dealing with two or three solicitors, "then you could probably win the argument."
"This is a big change… you're not just fighting a software sell, but a paradigm sell."
On the positive side, Duerden says the various settlement systems out there are "pretty antiquated and average".
Competing systems
As to these competing systems developed by other law firms and other mortgage processing operators, Curwood says the LoanCloser team is well aware of these.
However, she says LoanCloser differs from these in a number of ways – most notably that it has not been built solely for the use of solicitors, and is not simply a document preparation system, but "provides transparency for the whole of the post approval process".
"LoanCloser is purpose built from the ground up for, and in conjunction with, a lender (La Trobe) over the last ten years and it is not an amalgam of software applications."
Another key difference is that LoanCloser – unlike other systems – resides with the lender, giving the lender control over all of the data and processes.
"The bottom line for lenders is if you can't get control of the data, then how are you going to create a transparent process?"
Curwood emphasises that panel solicitors access LoanCloser on the lender's web server, thereby ensuring the lender controls all the data and its integrity.
LIXI compliance
LoanCloser is not a member of LIXI, nor has it been built using the industry body's settlement standard.
Mike Thanos, chief operating officer of LTX (a founder member of LIXI), says the LIXI settlement standard has been available for about five years now and has been used widely – "We encourage LoanCloser to adopt and support the standard."
He points out that there are a number of settlement firms that have an electronic interface with lenders, who use the LIXI settlement standard, and
"these provide status tracking to the lender and other parties to the transaction".
Curwood says LoanCloser would be happy to join LIXI or become a licensee – but only if a client required it.
"We completed a report on LIXI and found we could quite easily be LIXI compliant. We concluded that at that stage there was no demand for it," she says.
She says, to date LoanCloser has been able to interface simply without the need to become a licensee.
However, she defends the decision to build LoanCloser without using the LIXI settlement standard: "LoanCloser is a system designed for lenders and their use internally and [for use] externally by solicitors and document preparation departments when required."
For this reason, she says a LIXI-compliant interchange has not been necessary.
Walking the talk
The task now for the LoanCloser team is to gain traction in the wider market – as Duerden has already pointed out, shifting mindsets will be a major challenge.
While Purcell and product development manager Anthony Hughes look to sell the system to more lenders, Curwood and her team are constantly at work refining it to make it as seamless as possible, with all the right checks and balances
The view going forward is to make LoanCloser an industry standard.
According to Purcell, LoanCloser is not trying to change the system – but only map it correctly by using technology that is robust.
While size may count against Purcell and the team, on the positive side, being a small organisation means they do not have the bureaucracy, which restricts a lot of the big lenders.
And Purcell has complete confidence in the system: "It's robust, reliable and has done tens of thousands of transactions."
The challenge now is showing lenders how it can work with their systems, and confronting attitudes in middle-management that say you need a big IT department to do the sorts of things LoanCloser is able to do.
"There's no need to have a big IT department behind them – we're using an architecture that's quite simple," Purcell says.
Furthermore, the cost to the borrower is miniscule – though Purcell will not reveal details of the cost of LoanCloser.
"But," he says, "…it's a small price to pay from a borrower's perspective to know the loan will be settled in a day or two."
Multiple views – what users make of LoanCloser
Lender's view
Greg O'Neill, CEO of La Trobe Financial Services, says the mortgage lender has been using LoanCloser for the last seven years.
O'Neill is full of praise for the system: "Since its inception, it's been without peer in settlement efficiency, and in a management area of most concern: 'what happens after approval?' "
He says when files are handed to third party lawyers, LoanCloser achieves two preeminent positions: firstly, it keep brokers informed after settlement – when documents have been signed, where they are, who is responsible for meeting conditions of settlement, and secondly, it directly assists La Trobe in reducing staff levels by taking away a number of manual processes that are now no longer required.
"Without it, we'd need 30% more staff," O'Neill says, adding that the system is highly reliable and keeps getting better and better for all parties who use it.
O'Neill says there are other systems out in the market, but none are capable of doing what LoanCloser does. "[These other systems are] are cobbled together with disparate systems – part processor, part fax. LoanCloser is the only one commercially up and running, which does the whole of loan settlement and [delivers] a closing loan solution."
Furthermore, he says LoanCloser is not restricted by volume and is pretty much limitless in terms of users.
Broker view
Sharon Byron, a credit team leader at Premises Finance, says she uses LoanCloser to send notes and converse with the lender and solicitor, without picking up the phone.
She says it also helps avoid any miscommunication. "This then lets me spend more time following up new leads and keep in contact with my existing clients."
She says besides the fact that it speeds up settlements in many ways, the best thing about it is that she is able to view the outstanding conditions and know exactly what stage each loan is at.
Document preparers' view
Bytherules conveyancing lawyers have been using LoanCloser for a year, and its principal Joseph McMahon, says the firm uses the system for processing and tracking of all loans.
He says LoanCloser has strengthened the working relationship between solicitor, lender and broker
"The program allows all parties to be kept up to date with the progress of a loan. It ensures the efficient processing of the transaction, even with complex permissions."
Other praise includes its ability to give staff a "snap-shot overview of any file without physically having to put a file in front of you," which McMahon says has helped with efficiency.
Once NECS comes on board in 2010 (according to the NECS website), MPA understands that a system like LoanCloser will need to link into other existing systems to be truly end-to-end. So will it be able to do it?
The short answer, according to LoanCloser's head of operations, Kylie Curwood, is "yes…because it uses service oriented architecture (SOA), allowing it to link up with other systems."
She says the real issue is what form a national system should take: "The Victorian government, for the last eight years and $30m, has tried to create a system but it hasn't seemed to be accepted."
Curwood maintains that present technology could allow lenders direct access to the Land Titles Office and State Revenue Office in each state to allow instant registration without the need for a NECS-type conveyancing system.
She says with lenders involved in 80% of property transactions, and being the ones that hand over the money and collects all the title documents, land title and revenue offices should be able to use the data, stored electronically, to register the documents instantaneously.
"Why wait on everyone else? Lenders want registration, but not necessarily a conveyancing system."