ASIC's remuneration review has been released and now the real battle begins, according to the MFAA's new CEO Mike Felton. He talks to MPA editor Sam Richardson about what's likely to change, and where the association's drawing a line in the sand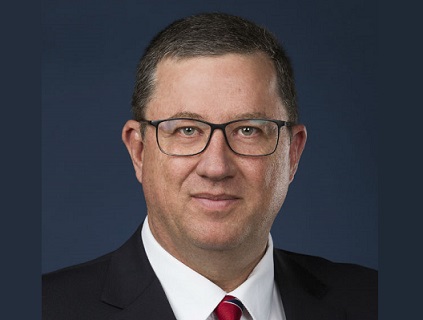 ASIC's remuneration review has been released and now the real battle begins, according to the MFAA's new CEO Mike Felton. He talks to MPA editor Sam Richardson about what's likely to change, and where the association's drawing a line in the sand
Thursday 16th March was a day the industry has been dreading for over a year. ASIC's Review into Mortgage Broker Remuneration has been the topic of endless speculation. Would commission be banned? Would it spell the end of the broker channel?

As ASIC has finally published its report, brokers can finally move from speculation to action, and give their views on ASIC's proposals. MPA spoke to MFAA CEO Mike Felton to find out what happens next.
As Felton sees it "this report coming out is not the end of the process; it's the start of the process." The industry now needs to respond to ASIC's six proposals (which you can see in the inset) and the MFAA has launched a consultation process, including six broker roundtables across the country. Brokers who can't make the roundtables can contact the MFAA or their aggregator – Felton recommends you do both – and there will be months of consultation before they submit their response in June. "You'll have a number of bites of the cherry on this one; it's unlikely we'll get it right first time around," he says.
Felton has reasons for optimism, as ASIC's review provides a tremendous opportunity for the MFAA. When Felton arrived at the MFAA in December, the association was in trouble: leaderless since May, it had ceded the media limelight to the
FBAA
, who promoted themselves as a standard-bearer for beleaguered brokers. Yet the outcome of ASIC's review has been far from disastrous for brokers – Felton considers it an "incredibly well-informed and well-considered outcome" – as ASIC calls for lenders, aggregators and brokers to work together. That gives the MFAA an advantage, Felton believes: "We represent all industry groups … that gives you a great deal of credibility when you are involved in going to a regulator, with a position that represents the entire industry and you have a voice that is listened to and heard."
Changing commission structures
Although the MFAA will consult members, they've already set out initial responses to ASIC's proposals. Proposal one calls for lenders to change commission arrangements so brokers are not incentivised by loan sizes. ASIC doesn't present a clear alternative, beyond suggesting that commission could reflect the LVR of the loan, or possibly compliance metrics. The MFAA, however, isn't supportive of a commission structure determined solely by LVR levels. Felton says: "It's too early to be prescriptive. We need to sit down with our member groups and say, 'How do you feel?' "
Felton sees ASIC's proposal as simply an interest in tweaking commission structures, emphasising that the basic structure of upfront and trail commissions are not up for discussion. On being asked whether commissions had a role to play in macro prudential policy (which would involve LVRs), Felton replied that commission structures should drive competition and consumer choice. Nevertheless, he says the industry would have to be prepared to work with government to produce a more balanced scorecard for remuneration. Felton doesn't anticipate any disagreements arising between the MFAA's broker and lender members over commission.
"I don't think the different member groups will have vastly different views of what things should look like," he says.
Soft-dollar benefits
Tweaking is one thing, but ASIC's second and third proposals, if implemented, will certainly be noticed by many brokers. ASIC wants the industry to move away from bonus payments directly to brokers and soft-dollar benefits, but defining the latter is a potential minefield; elite broker schemes, overseas conferences and even training are under scrutiny.
The question Felton and the industry need to answer is whether these benefits drive volume to a single lender and compromise consumer outcomes.
Of ASIC's proposals, one seems most likely to become reality: the end of volume bonuses paid directly to brokers. Brokers should prepare for change within 2017, warns Felton: "If there is a broker who's receiving a volume bonus to support a specific lender or product then that's likely to be done away with. [However] we feel that if there is a payment that is going to the aggregator and not the broker level, where a recommendation
for a particular lender is being made, that is still acceptable."
Elite broker schemes, such as
CBA
's Diamond Brokers or
Westpac
's Platinum Brokers, could also be seen as an open-andshut case: elite brokers get faster turnaround and other benefits for putting a large amount of business through these lenders. The MFAA believes these schemes need to be looked at, but Felton holds back from a complete denunciation: "In some instances these clubs improve the speed of turnaround, and speed
of approval might be the most important criteria a customer has."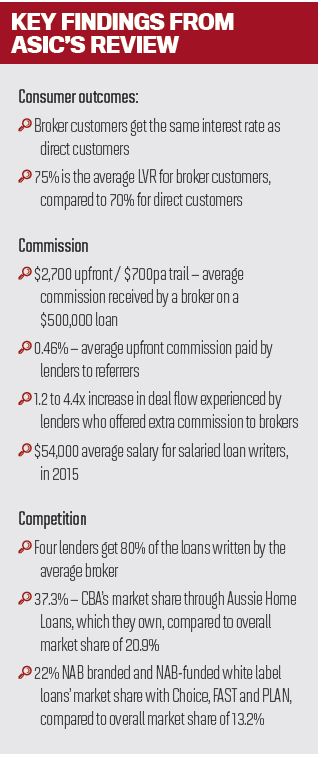 As ASIC has identified nine lenders who offer such schemes – and as most elite brokers are members – it's shaping up to be one of the biggest discussion points of the review.
Extravagant conferences have also been highlighted by ASIC as a soft-dollar benefit.
AFG
's now infamous cruise ship conference has come in for some criticism from consumer groups, and it's noticeable that almost all aggregators decided to hold their conferences in Australia this year. However, Felton refuses to judge where aggregators hold their conferences: "We need to look at what the incentive is for and not what the incentive is."
As AFG executive director
Brett McKeon
pointed out with regard to the cruise ship conference, the importance is who pays – in that case AFG – rather than one particular lender. According to Felton "as long as it's not undermining competition and choice that should be the key issue".
Therefore, says the MFAA, conferences should reward brokers' performance across the full panel of lenders and products.
This rather black-and-white definition of soft dollar held by Felton and ASIC becomes more difficult to justify when it comes to training. Many lenders have long offered training to brokers at reduced rates, if not for free, and these could be seen as an incentive to use a particular bank, albeit an incentive that also benefits consumers. Banksponsored training should be encouraged, argues Felton.
"As long as it's training across the board and everyone's entitled to benefit from the training, it can only be good in strengthening outcomes in the consumer's interest," he says.
Improved oversight of brokers
ASIC's final proposals, on disclosure of ownership structures, public reporting of consumer outcomes and improving oversight of brokers, all require industry-wide cooperation. In its review, ASIC continually referred to the Sedgwick review by the Australian Bankers Association as a potential basis for new rules, but the MFAA has said it "does not support unilateral action", adding that the ABA does not even represent all lenders.
Could the MFAA play a coordinating role? Felton is reluctant to speculate: "There may be [a role for the MFAA], we're not going to focus on that right now. Clearly we do have a position of representing the entire industry; if the regulator wanted the MFAA to take a greater role in this we would certainly give it greater consideration, but we do see ourselves in a facilitating role to get to the outcome of what the final policy looks like."
At present the MFAA is just a voice at the table, alongside other industry associations, aggregators, lenders and consumer organisations, who will all be trying to make their voices heard before submissions close on 30th June. At the time of writing, consumer advocates have made the most noise; CHOICE's head of campaigns and policy Erin Turner saying, "I hope this is the first report of many", and calling for reform beyond commissions, including the not unsuitable obligation for mortgage brokers. By 30th June Felton's message, and that of the MFAA, will need to be louder and clearer, to ensure brokers play a pivotal role in determining broking's viability into the future.