Sam Richardson asks if the end of the foreign investor boom is in sight as Chinese buyers find it much harder to buy property in Australia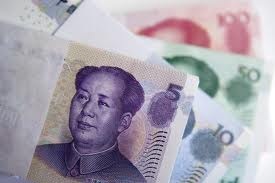 From snapping up mansions in Sydney's Point Piper to buying countless off-the-plan apartments, Chinese buyers in Australia have earnt themselves a reputation for being 'cashed up'. These property purchases frequently run into millions of dollars, yet Chinese citizens are officially allowed to take just US$50,000 (approx. A$66,500 at time of writing) out of the country per year.

Something doesn't add up, and it seems the Chinese government has noticed. On 31 December the Chinese State Administration of Foreign Exchange ordered banks to tighten the rules on converting money, particularly for unapproved reasons, which include buying property. This was no advisory ASIC bulletin. CT Johnson, general manager of Australia-China consultant Basis Point, argues that it was "a signal, coming from the Chinese government and going to the state-owned banks; that this is a serious problem and they're looking at in a serious way".

Chinese conversion rules matter to the Australian property market in a big way. There's precious little you can buy in Sydney or Melbourne for $66,500, and it's more than a question of money: the Chinese government and consequently the Chinese banks simply don't want their citizens investing in foreign property, hence, says Johnson, "if you say you're going to make an overseas property purchase the bank just won't approve it".

With the world's biggest country trying to turn off foreign property investment, MPA asked currency experts, leading brokers and real estate agents whether it could succeed.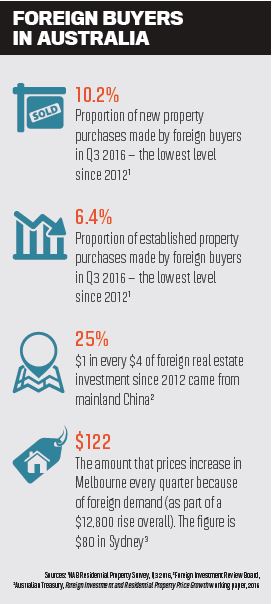 The $3trn barrier
The $66,500 limit for Chinese citizens has been in place since 2007 without noticeable effect; previously it was just US$20,000 (approx. $26,500), as Gavin Norris, head of Australia for Juwai.com, the biggest international property website for Chinese buyers, has pointed out. However, after years of Chinese citizens moving money into perceived safe havens abroad, including Australian property, the Chinese government is approaching what Basis Point's Johnson calls a "psychological barrier": foreign currency reserves have dropped to 2012 levels (a casual US$3trn), and the Renminbi has fallen relative to the US dollar. Stopping money leaving China is one way to slow down these developments. As the State Administration of Foreign Exchange told reporters, the "tough stance on foreign exchange irregularities [is] in a bid to safeguard China's economic and financial security".

Although the new requirements don't officially come into force until July, already two of the country's largest banks have started demanding that customers fill in a form declaring what their foreign currency is for, and rejecting conversions for investing in property. Banks have also restricted the use of their credit cards for purchases and taking money from ATMs abroad. For Chinese citizens looking to buy property in Australia "it's already too late", Johnson told MPA. He said "the important part is not the rules exactly; it's the tone, and the tone that has been set".

How brokers will be affected
Two brokerages have revealed to MPA what these changes mean for them: Australian Mortgage Award-winning Alliance Mortgage Solutions and ASX-listed N1 Holdings.

Eric Cui of Alliance said "this policy will definitely affect [many] Chinese agents, like real estate project marketing companies, broker companies and also foreign currency companies". Chinese citizens who reside in Australia but hold savings in China could find it hard to access those savings, Cui added, including some of his clients.

For Ren Wong, CEO of N1 Holdings, it's now "a lot harder if not impossible for middle-class Chinese to bring money out of China, and I believe [this] does affect Australia and other countries' real estate markets at various scales". There are exceptions, such as buyers with money already held outside China, "but not many of them are willing to exhaust the overseas cash reserve for property investment", Wong said.

Neither brokerage sees the changes as a dire threat to their business. Rooted in the Australian–Chinese community, Alliance only recently started targeting mainland Chinese and still has few such clients, Cui explained. N1 Holdings has far greater links with China, including offices in Shanghai, Guangzhou and beyond. Now they are looking beyond China, Wong said. "Foreign buyers from Singapore, Malaysia and Indonesia in one way do fill the gap because these buyers can still borrow from their local banks to buy properties in Australia." Since its initial public offering in 2016, N1 Holdings has been diversifying, and has acquired a boutique real estate agency in Sydney's McMahons Point.

With a well-publicised focus on China, Juwai.com could be a high-profile real estate casualty of foreign conversion restrictions, but Norris is upbeat about the changes. "There may be fewer headline-grabbing, billiondollar-plus asset purchases," he said. "But the long-term attractions of the Australian market remain: liquidity, quality of life, proximity to China and a solid legal framework."

Chinese investment in Australia is at an all-time high, Norris told MPA, and he expects "that it will continue setting records in the years to come".



"This policy will definitely affect [many] Chinese agents, like real estate project marketing companies, broker companies and also foreign currency companies" - Eric Cui, Alliance Mortgage Solutions



Getting around the rules
Preventing money leaving China may prove to be a Sisyphean undertaking. "You cannot sequester the world's second-largest economy; it's a physical impossibility," argued Basis Point boss Johnson. He said citizens "absolutely will [find ways around those tightened rules]. They already are finding ways around those tightened rules and they will continue to find them". Johnson expects a slowdown in foreign investment in the first half of the year, partially mollified by the Chinese New Year, followed by a recovery towards the end of 2017 as people find ways around the rules. However, the currency conversion rules could tighten further, Johnson said, which could delay any recovery.

Alternatively, it's possible the government could relax rules, publicly or implicitly.

"You can understand what they might do in the future by looking at what they have done in the past," Juwai.com's Norris said.

"In fact, we have seen the Chinese gradually loosen up restrictions over time." Furthermore, he argued, "any time the government provides more clarity on the rules it provides more certainty to the market and makes things easier for consumers".

At N1 Holdings, Wong is less hopeful: "I think it's time for those who relied heavily on the mainland Chinese market to diversify, and don't bank on change of policy in the near future."

Brokers could, in theory, be one of the few groups to benefit from tightened currency conversion rules. The newfound inability of Chinese buyers to access huge savings could make them look for finance in Australia, Norris said. "We see increasing numbers of upper-middle-class buyers willing to use leverage to get on the overseas property ladder." Cultural shifts within China have made it more acceptable to borrow money, while "there are still plenty of cashed-up buyers" on the lookout for Australian property.

For foreign clients, getting a mortgage has become considerably more challenging since 2016. In April, Westpac and the St. George Group simply stopping lending to offshore non-residents and temporary visa holders, following the discovery of widespread application fraud, some of it involving brokers. NAB then banned lending to foreigners who could not prove a local income, and CBA, ANZ and a number of non-majors also announced restrictions on temporary residents using foreign income to prove serviceability, including reducing LVRs to the 70% mark. Foreign investors are also facing stamp duty surcharges in Victoria, as well as in NSW from June, and there are hikes proposed in other states.

For Chinese clients, buying property and borrowing in order to do so will therefore become increasingly difficult, and at the very least, more expensive. Yet the attractions of Australia for Chinese clients remain, and have indeed been intensified by recent restrictions. Bloomberg chief Asia economist Tom Orlik has described the situation as a "deadly loop". "The more controls the government puts on, the more desperate it seems," he said. As the Renminbi continues to fall, and property values in Sydney, Melbourne and Brisbane continue to rise, Chinese buyers will continue buying, and continue using brokers.



"It's time for those who relied heavily on the mainland Chinese market to diversify, and don't bank on change of policy in the near future" Ren Wong, N1 Finance


HOW MONEY LEAVES CHINA
With a little help from your friends
Previously many Chinese citizens looking to convert more than their annual $66,500 limit would use the conversion allowances of family members and friends, but with banks paying more attention to currency conversions this could become more difficult

Hong Kong insurance
You can buy life insurance policies in Hong Kong with Renminbi and then quickly cash out those policies in Hong Kong dollars, which are easier to exchange abroad. One Hong Kong insurer swiped the credit card of a single client 800 times for the purchase of $4.7m worth of insurance policies, according to Bloomberg. However, the Union Pay Bank has recently prevented its credit cards from being used for insurance.

Bitcoin
The virtual currency provides a way for money to leave the country, with locals buying bitcoins on Chinese exchanges and then selling them on offshore exchanges, although regulators are beginning to take an interest.

Physically taking cash out yourself
You could just load a suitcase with cash and head to the airport. However, individuals are limited to CNY20,000, or the equivalent of US$5,000 in other currencies